I've always had an aquarium in my house growing up. Recently moved out to Toronto and finally decided to get another tank going. Diving into a planted tank, they have always fascinated me. Planted tanks are my second favorite next to salt-water which I'm not financially able to get into plus the time commitment.
My goal is to create something that looks great and overall is a better environment for the fish versus a good filter, inert substrate and plastic decorations. Plants in the house is something else I enjoy however my apartment layout isn't practical for keeping them.
I'm hoping the hours and hours I have spent researching everything from lighting to substrates makes this a smooth process. I'm about a month in and I'm starting to see some algae growth so obviously I don't have everything figured out.
Setup:
- 29 Gallon tank
- 30" Finnex 24/7 Planted Plus
- Nutrafin Natural Plant CO2
- Ehiem 2213 Canister Filter
- Aqueon 100W heater
- 60lbs Flourite Dark
Fish
- 1 black skirted tetra
- Handful of guppies that won't stop reproducing
- 5 Black neon tetra
- 6 Harlequin Rasporas
- 4 Siamese Algae Eaters
Planned:
- Shrimp of some sort
- Blue German Rams
Plants:
- Java Moss
- Brown crypts
- Java Fern
- Thick jungle val
- Thin vals
Ferts:
- Flourish and Flourish trace with 30% water changes twice a week.
This is probably the biggest area I have to learn, and would appreciate any information members can share in regards to appropriate amounts and what is missing from Toronto's tap water.
Now onto pictures and what's happened so far
First tank I adopted from kijiji, it looked like it had not been cleaned in a year and had been severely neglected. I stripped out down and washed everything. Tried to remove the snails but had no luck on the front.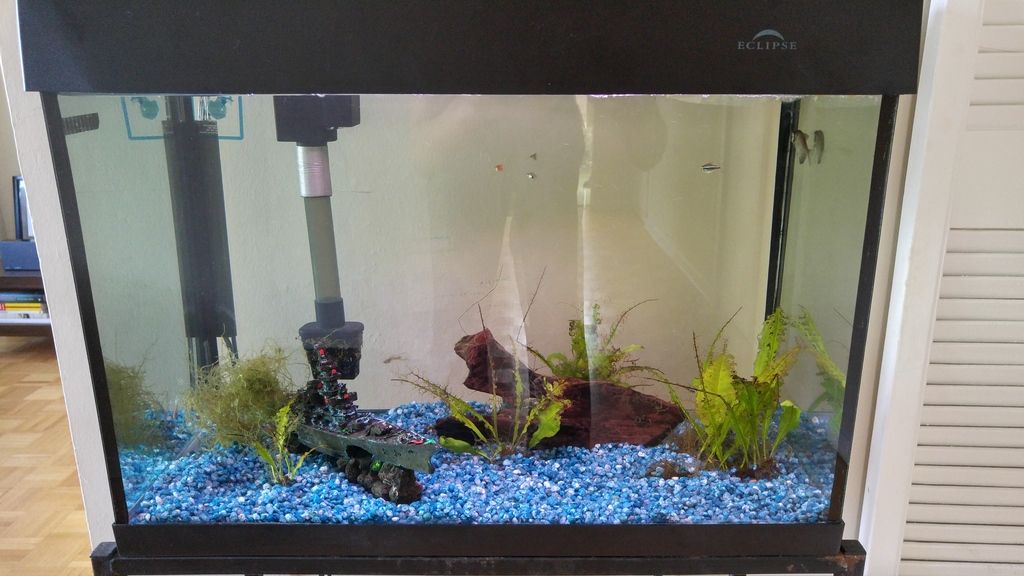 Bought a 30 gallon tank because it came with the eheim canister and fit the space in my apartment better. Did not realize how expensive the media is for the canister, I would have been better off buying it new. Also ended up replacing the shaft and impeller as it was extremely loud. Eheim is working great now.
Lesson learned on working with flourite... wash it thoroughly. This was after I spent 2 hours washing it in a 5 gallon bucket one bag at a time.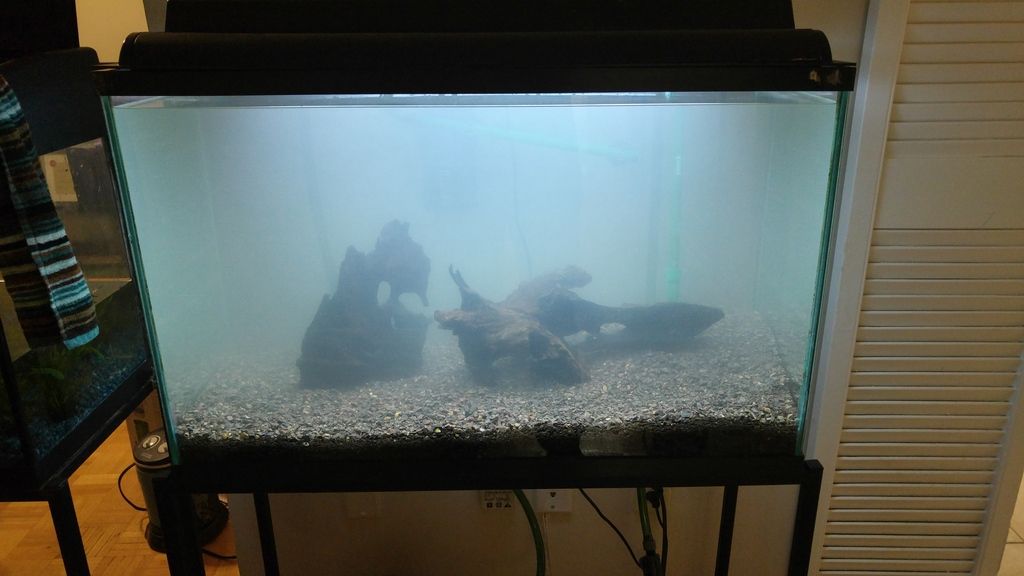 After taking 60lbs of flourite out and washing it one small bowlful at a time in the kitchen sink things were looking a little better. This is with a 24" t8 hood that came with the tank. Also the leftover plants from the adopted tank.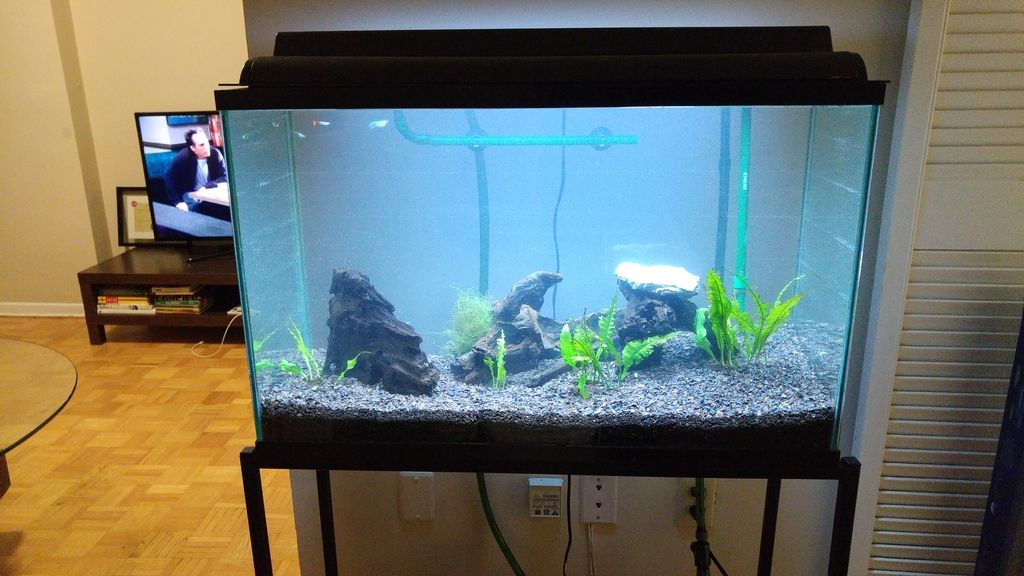 I knew the T8 wasn't going to cut it, so after hours and hours of research I decided on the Finnex 24/7. Also picked up most of my plants from kijiji. Had not setup the CO2 system to this point.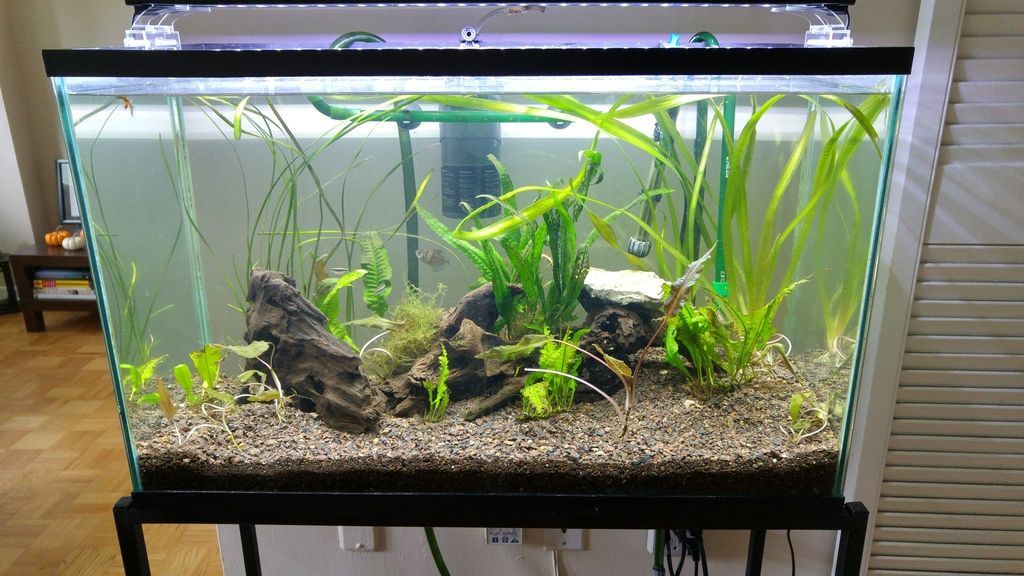 Trimmed and planted things where I wanted them and got the CO2 started. Using yeast and sugar. Going to be a trial and error system with this. Suggestions on working with CO2 would be appreciated if anyone is using this system.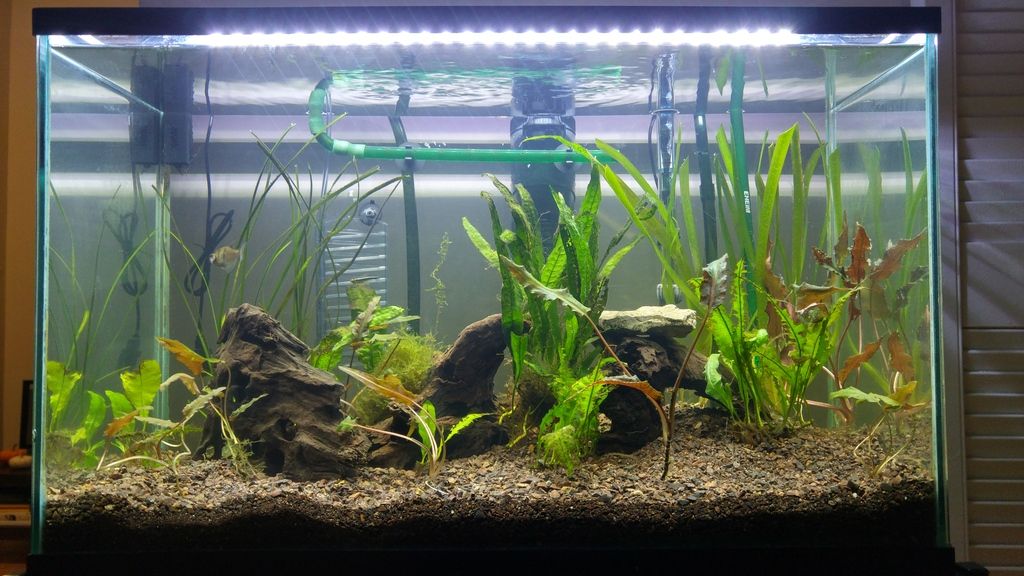 Last pic to show the finnex, I love this light. Currently sorting out some algae issues so I'll have to update how much I love it in the coming weeks.