November 8th. 12:16pm
Yeah I know, usually my posts are like at 12am, this can still happen. tonight after work is maintenance night. I work as a cook in a restaurant, and well, we get off late. I generally prefer it because I don't do early days very well.
This tank will have been running for two weeks tonight. So far I will go over what I have seen in changes and relate them to the previous system and hypothesise what went wrong.
First of all, my mag is extremely low. I am waiting for my IM media basket that also has the mag. I had hoped it would arrive on friday - which was my birthday. But it will probably arrive tomorrow, which sucks because I am going out. I hope I can pick it up in the evening from the post office.
My hardness is rather high. I don't have an RO water supply, so unfortunately I do use tap. Bringing in RO or premixed water is barely an option as I do not have a car. I have a bicycle. Yes it has a trailer, but as I live in an apartment; storing loads of water is not exactly easy. RO system is expensive - it is something I would like to get, but I think that will have to come later. I don't know if there is anything out there I can simply connect up to the tap and run and disconnect later.
Livestock changes:
I am losing one zoanthid as far as I can tell - it may have a single polyp still. It got seriously faded in the pico. I am not sure why exactly but now once again I suspect light. The dimensions of this new tank is the same width (approx) but a bit wider, and higher. I reckon that the lights were dimmed so much the corals were not actually getting enough light, and any higher they would burn. Stuff appeared to just survive. I don't know what the difference between the pico's reboot and the first run because in the first run, stuff seemed to grow intensely well. SPS was somewhat problematic. That is why I avoided them this[the retired pico] time around. I am considering sps again, but only once I get my mag up and my calcium stabilised.
After the shock of tank transplant, all my zoanthids opened up. Including some that had closed just prior to the leak and started to shrink. Some of my zoas had shrunk really tiny, but now htey have opened up and are 50% larger and growing. Others are already starting to look like they are growing new heads and a few - my nuclear green paly, appear to be recovering their spectacular green. incidentally they are no longer stretching for light, But short flat and happy. The signs were there before, but I did not understand them.
the only thing that seems to be stretching for some light is my rockflower and that is because while the move was in progress, she planted her ass on what would be the backside (darkside) of a rock. She'll move I hope. I just hope not on top of my zoas. Only other AWOL creature is my blood red Carpet. I know where she is, and I hope she moves out from there because, she cost enough, and I really would like to see her.
I had taken damage to my Blastomussa during the leak incident. I had no place to really hold the head and I think with it laying on the side, one of the heads started to die off and started to kill another one, I dipped it for a while and it appears to have recovered beautifully. There is still the lost head, but at the rate this guy grows, that won't be a problem in short order. I count at least 7 heads that are big and puffy. I started out with one. I know more had developed, but they might not have done as well as the survivors.
The fish seems happier even.
The condition of my new 10 was I dismantle my old 10. the old 10 was not doing well, and i could not enjoy it as much. I had my inverts in there because they were too large for the pico. All inverts are now in my Nemesis III except the gorilla crab that is enjoying life in the 7.
The third large main rock I need to attach better. I have to go buy some marine putty. And then, and only then, will I add corals to it. But right this moment my gorgeous Hallowe'en Hermit crab is having a walk across it.
It just looks so beautiful and I could not be happier in the moring when I get up, to see the lights on and it looking like a shining jewel.
I am researching chemipure right now and considering it as media for my incoming media basket. That should arrive Monday or tuesday.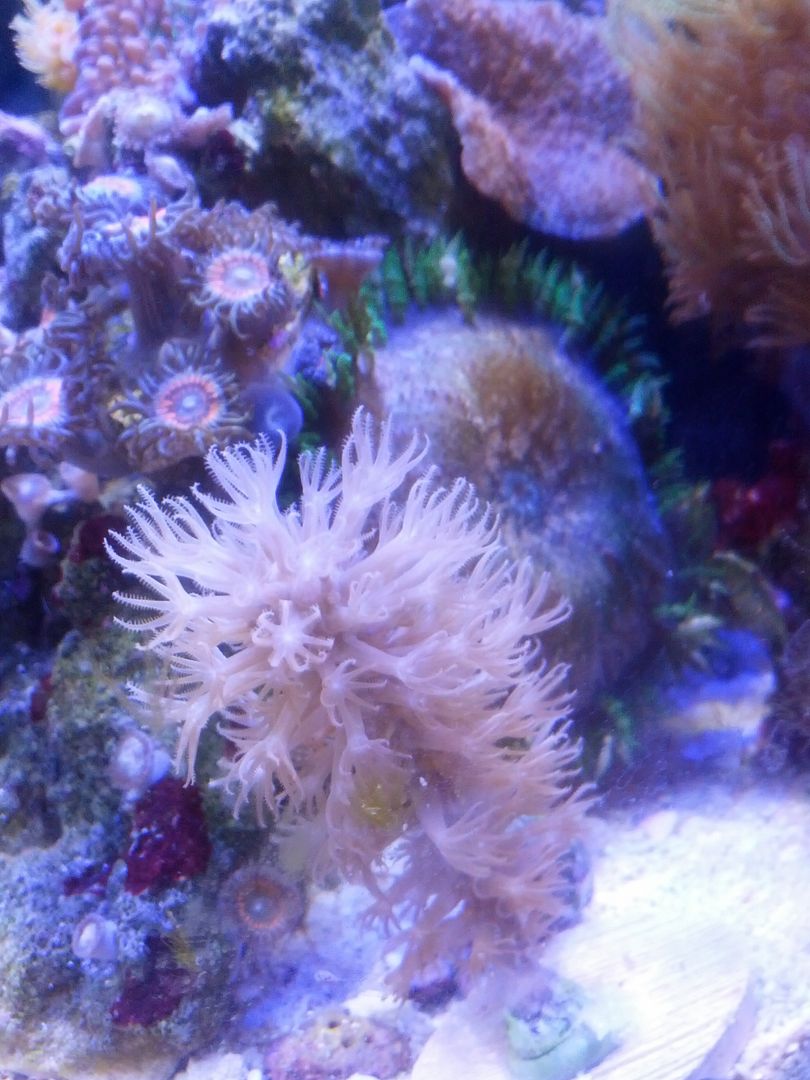 Extreme forground: Gorgonian, middle, Rockflower, top left, Metalic GSP, Zoanthid: armour of gods (I think)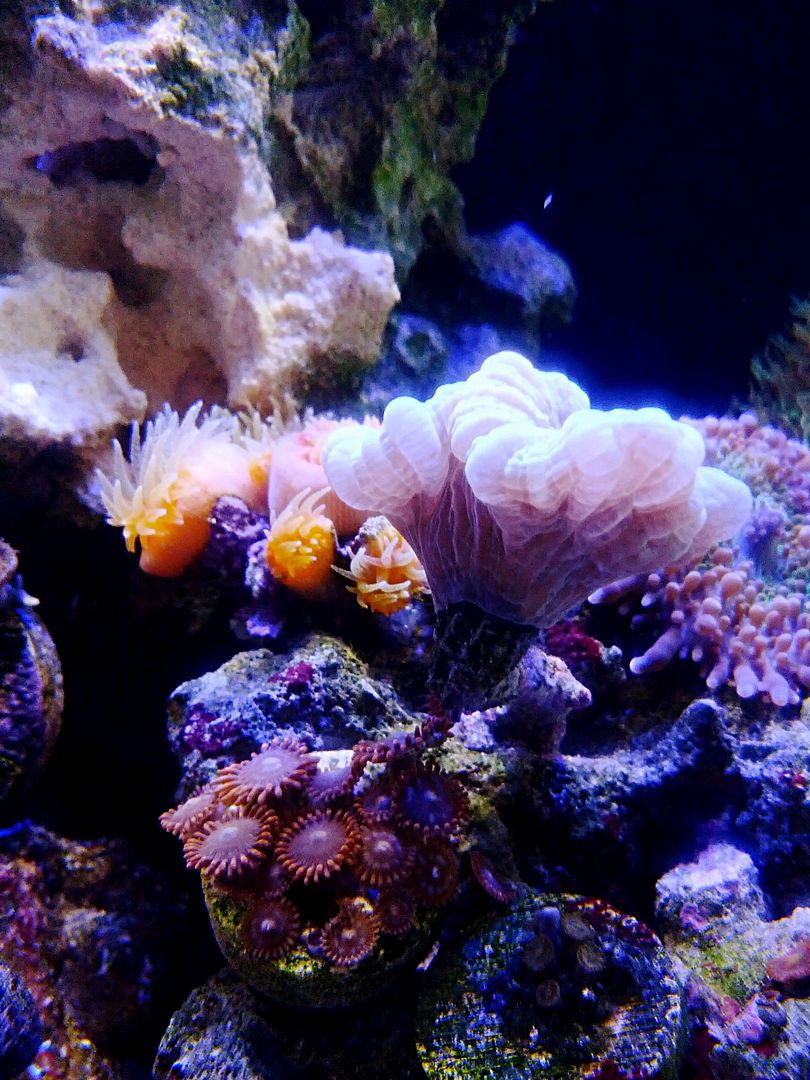 Dendros, Trumpet, and zoanthids. Thhe smalls ones are the recovering ones.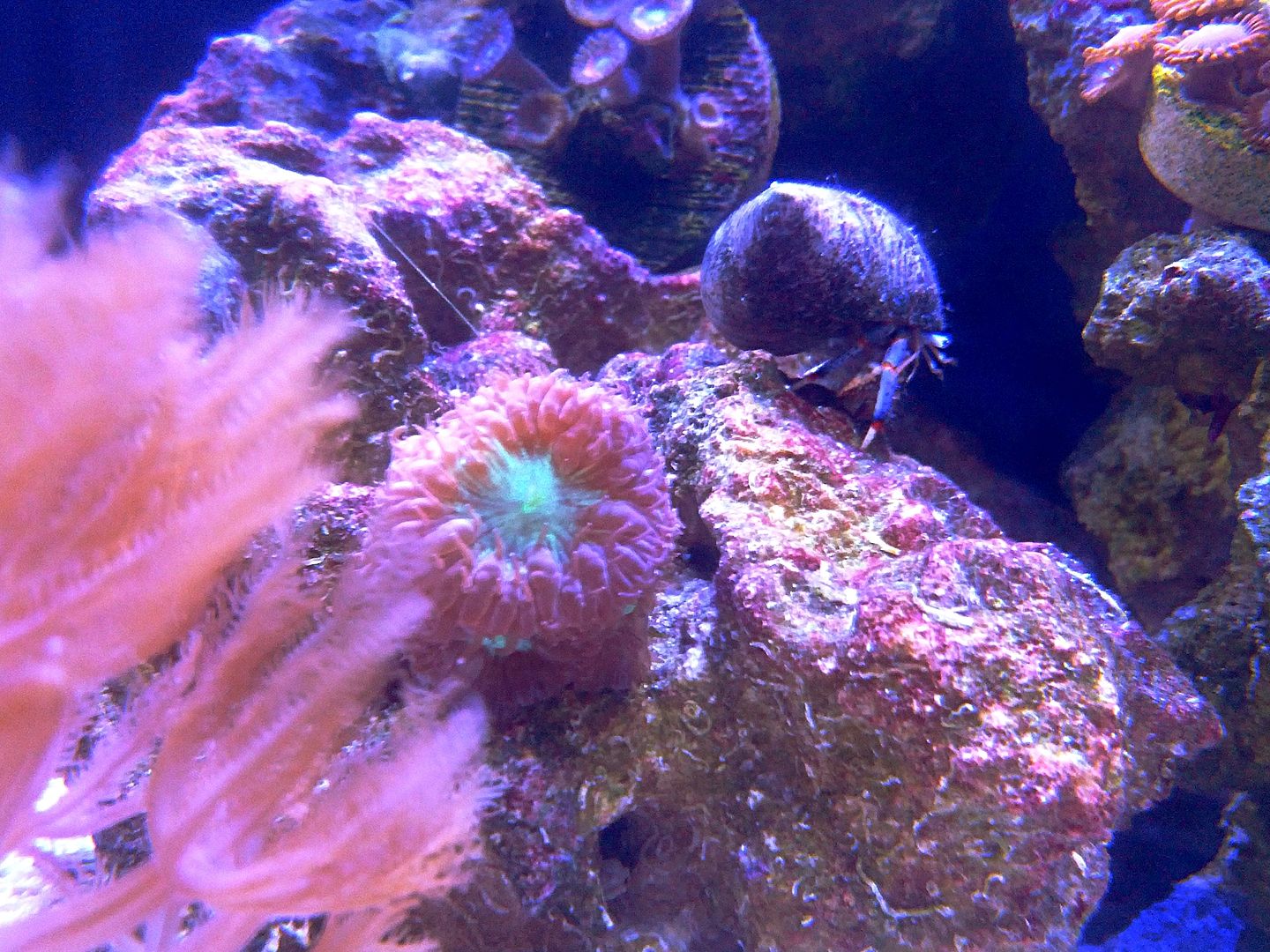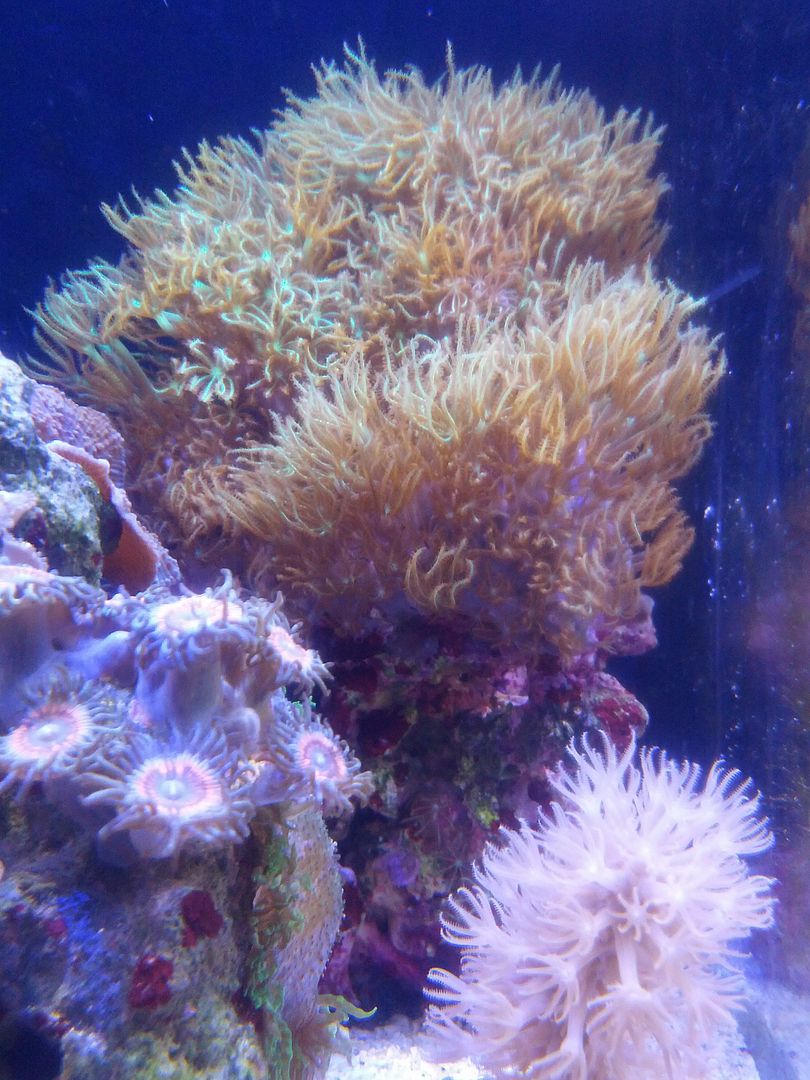 as I was writing this post, and I cross posted it on nano reef, my blood red carpet nem decided to drift to a new location. I shut the pumps down, and stuffed her in a spot. she remained there.