Discussion Starter
·
#1
·
Started my first tank with this hard-scape this past September. When December rolled around, I took everything out, then replanted with the plants I had going and a few more.
The first two photos are of the hard-scape and first planting. The remainder of the photos are from yesterday (a week or so shy of three months after re-scaping).
Some things still have to grow in some more and I think I might adjust a couple things to try and give the layout some more depth, but am generally happy with how it turned out.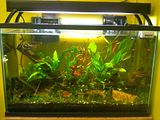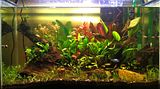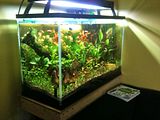 Plants​
Alternanthera reineckii Rosaefolia
Anubias barteri 'Coffeefolia'
Anubias nana
Aponegeton boivinianus
Aponegeton madagacariensis
Bacopa caroliniana
Cabomba caroliniana
Crptocoryne balansae
Crptocoryne becketti
Crptocoryne petchii
Echinodorus barthii
Lilaeopsis brasiliensis
Lobelia cardinialis 'small form'
Microsorum pteropus
Microsorum pteropus 'Windeløv'
Nymphaea zenkeri
Inhabitants​
1 Rhinohorn Goby
1 Electric Blue Ram
2 Bumble Bee Gobys
4 Cherry Barbs
6 Zebra Nerite Snails
9 White Cloud Mountain Minnows (Gold)
7 Otto Cats
2 Zebra Otto Cats
*Getting 8 more Zebra Ottos and a friend will take my other 7 non zebras