Discussion Starter
·
#1
·
This tank took A LOT of planning. Needless to say, it is still incomplete. I got everything together in a matter of a few months and all the plants are from my previous 33 gallon tank. I have grown tired of boxy tanks and i have always admired every bowfront tank I came across. Here's the issue though... HOW TO SCAPE IT??? I researched what I can do with the plants that I have. It all came down to a dutch or a jungle aquascape. The unfortunate thing is... I wanted a nice iwagumi or nature style tank as well. I figured the best thing to do would be to have some sort of hybrid! I planned to separate the two by a different coloured gravel to make a king of path or road.
Equipment:
46 Gallon Bowfront with a stand
AC70
Fluval 205 Canister
Paintball CO2
2x T5HO 30" Oddysea light fixture
Driftwood
Rocks
Plants:
Carpet of DHG (hopefully)
Blyxa
Hygrophilia Sunset
Rotala indica or rotunifolia. I dont know xD
Ludwigia
Vals
Cabomba
Ambulia
Dwarf Sag
Rosefolia
Crypt Parva
Crypt Wendtii brown
Anubias
Giant baby tears
I had to wash out the old tank. Didn't want any dust or contaminants. I soaked it in a 20% vinegar, 80% water solution overnight and let it soak in decholrinated water after to that for about the time it took to tear down my 33 gallons (4 hours?)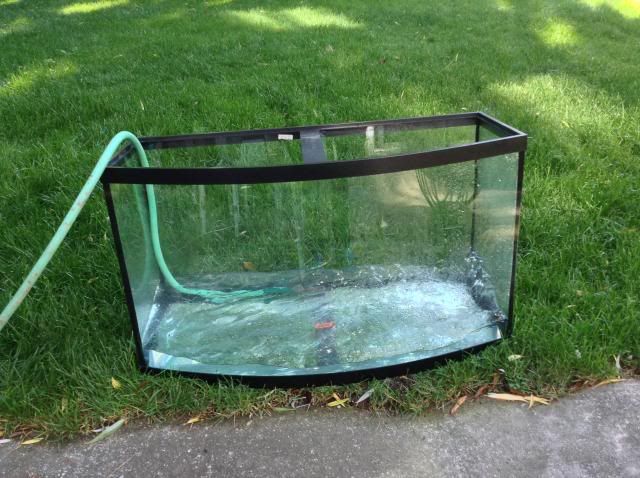 I tore this 33 gallon down, the old thread for it is here:
http://gtaaquaria.com/forum/showthread.php?t=47321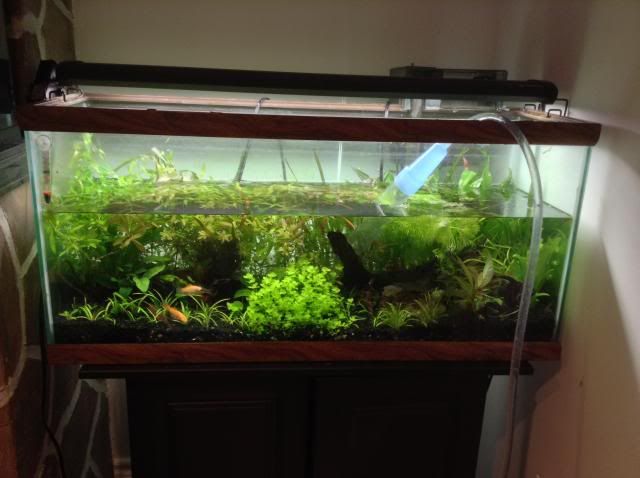 I laid down flourite black sand down on both sides and split it down with some gravel I got at my work. Also placed down my sexy driftwood. I have one more piece that has all the plants on it. Maybe ill cover these in moss some day.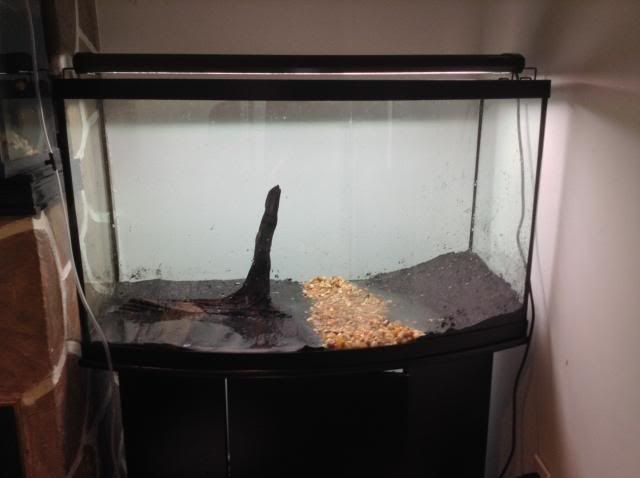 I did the initial planting of dwarf sag and giant baby tears at the front. I didn't realize it was so hard to plant in sand. It took me forever to get the giant baby tears to stay under water. Got the rocks on the nature side done and the second piece of driftwood with anubias done as well.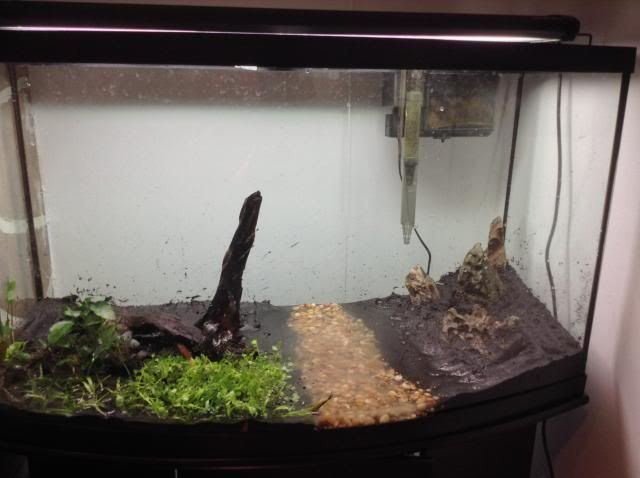 I put some crypts in at the side and got a garbage bag to being filling with water! I was scared the giant baby tears would freaking go everywhere. Luckily only half of them did and i had to replant them later haha.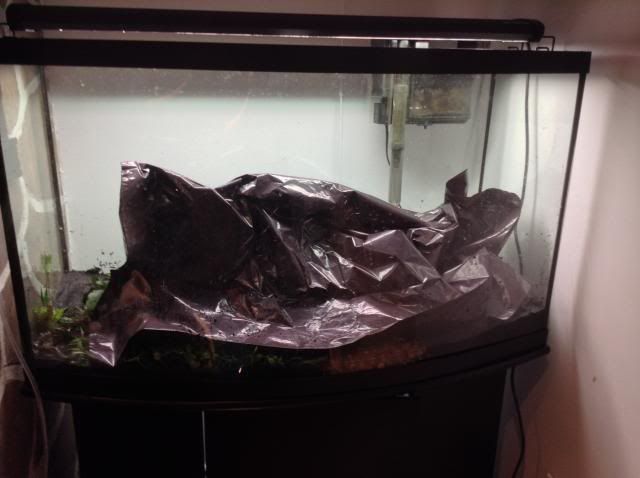 I filled in the other stem plants to make a dutch or jungle thingy and finally...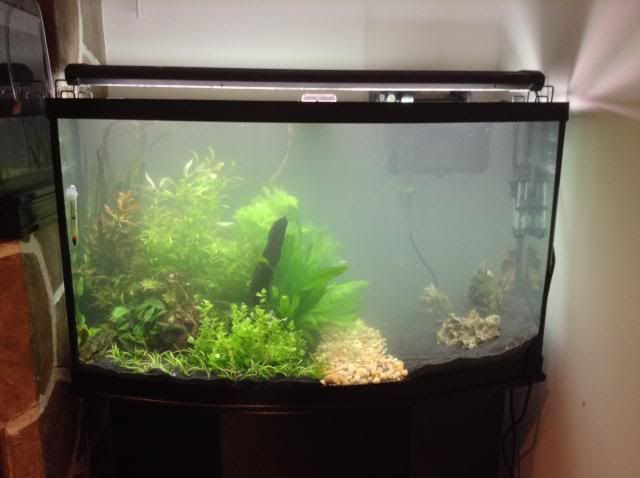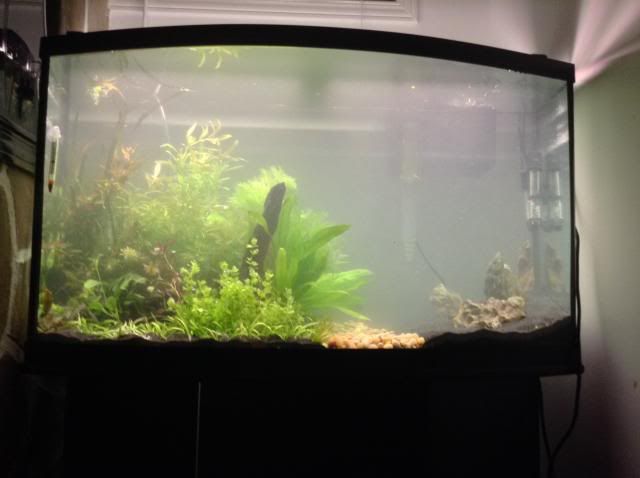 Got my livestock in again with all the gear set in place!
This tank had started from this...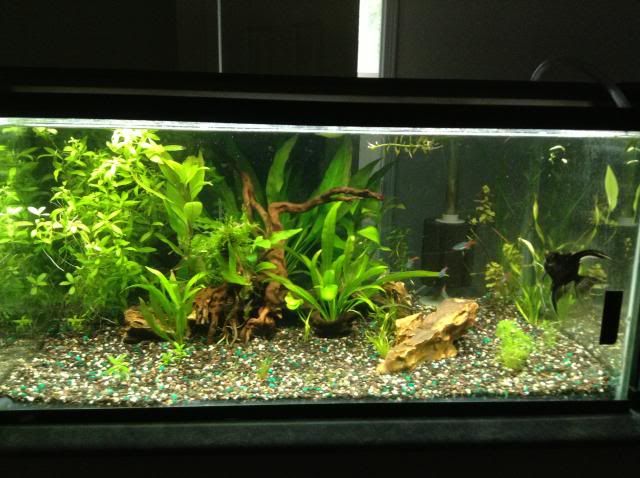 and went to this....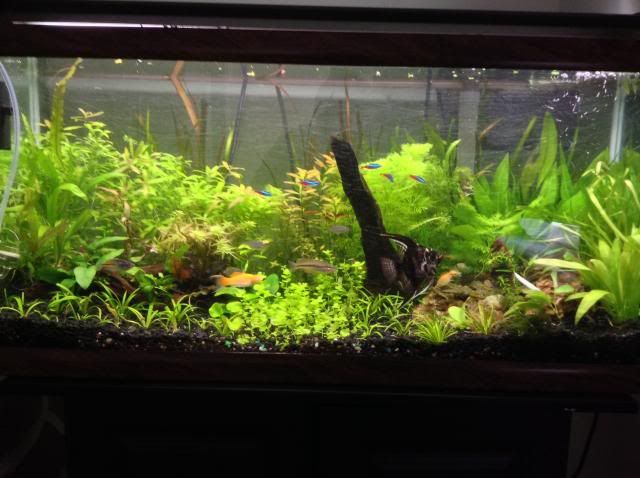 and now it is finally at it's last step...