Discussion Starter
•
#1
•
guess i'll start a thread to document my build. my current tank is doing great and all but i miss the 5ft length of my second tank. the reason i changed that second 5ft tank was because it wasn't eurobraced and got messy easily, and it was high, getting on a stool and up to your armpit in water just to turn over a frag on the bottom got tired fast.
this will be my final tank that i'll be going all out on, exactly how i want it.
tank: 60"long x 24" wide x 18" high, eurobraced, being made by miricles, external bean animal overflow, drilled for return.
lighting: ATI 8 bulb with 2 reef brites.
getting started...(home depo trip actually fit in the car! lol)
didn't have home depo make the final cuts, i wanted to take my time and make things as accurate as possible.
making sure everything is nice and square
done.
one thing i never had on any of my tanks was a proper stand skin. i also didn't want to break the bank on a custom one so after a lot of planning i came up with this. i still need to trim and permanently hang the pannels but that should be done in the next few days.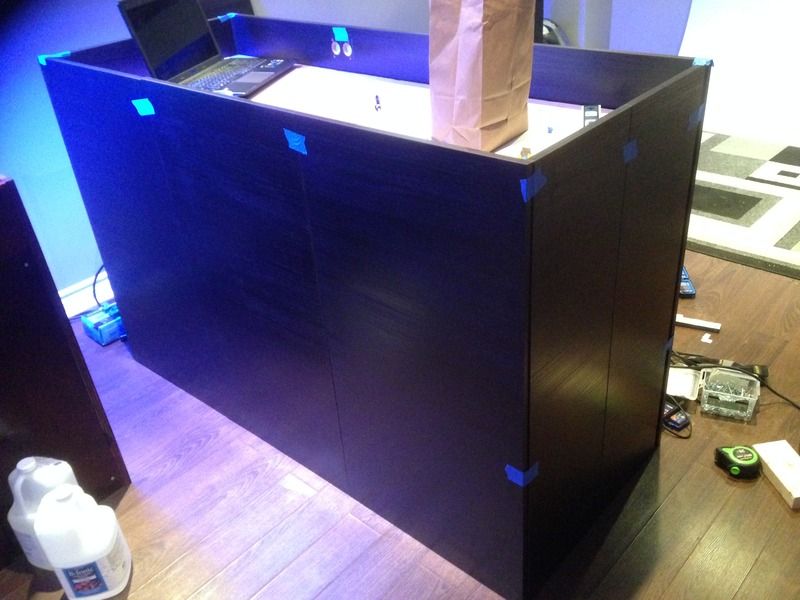 figured i might as well hang the ATI 8 bulb too. i'm using my tank now to grow out the sps as much as possible so i can transfer everything over.
i'll update as i go