Discussion Starter
·
#1
·
Chapter 1. Planning.
Previous Experience

Ever since I was little I've enjoyed aquariums, fish and underwater plants. My first aquarium was a 3 litre glass jar and was a home to 4 female and 1 male guppies. I was fascinated with this small water world and its inhabitants. The jar stood on a windowsill, did not have a heater, I was 7 years old and did not know about proper care, significance of water changes and nitrogen lifecycle. Surprisingly, the aquarium lasted for a few month, until one day I decided to perform a 100% water change with fresh tap water… The fish died and I did not have an explanation. That was 25 years ago and I did not have real access to aquarium keeping books.
For the past 15 years I've always had at least one aquarium in my household. I did mostly freshwater, was especially taken by African cichlids (tropheus are so much fun, frontosa is simply majestic). Did a number of planted tanks, that hobby had really progressed in the past 10 years, my last aquarium featured a CO2 system and intense lighting. I even tried a fish-only 10 gallon nano-reef in 2005.
All of this was preparation for the ultimate challenge in aquarium keeping - a saltwater reef system.
I started with a 10 gallon coral reef in 2011, made all newbie mistakes and have quickly realized that I needed better lighting, more water volume, greater fish variety, water stability and much much more.
By the end of 2011 I decided to order a 28 gallon JBJ Advanced Nano Cube system.
This system lasted for 7 months but I've discovered a few limitations:
the daylight lights system was quite powerful, but coral colours would not "pop", a coral that would exhibit rich green and red colours at the store would quickly appear rather drab and monochrome. dusk/dawn lighting was great.
curved glass on the front panel quickly became distracting, made taking pictures much harder and was not easy to clean
I've stocked the tank with 5 fish and wanted many more, needless to say that even 5 was too many
putting a dosing pump on such a small system seemed excessive, but I quickly got tired of manual dosing
So while I still have this system and it is thriving, I decided to design and build a new system that will address all of the above mentioned deficiencies.
Future Build Specifications
I did not want to go with an extremely large system, so 150+ gallon aquarium was not an option. An aquarium that is too small was not worth the effort either. The sweet spot would be somewhere between 70 and 100 gallons.
Choosing aquarium length was a no brainer: I want to use Ecotech Radion lights, they cover an area of 24" by 24", so 48" viewing side seemed like a perfect fit. Not too long and yet I have tons of options for lighting, this is a standard size.
Aquarium depth (front-to-back) was much trickier, a lot of aquariums that I like got as far as 30" deep, every hobbyist I asked recommended that I go with as much room front-to-back as possible. In the end I chose 24", which should give me more than ample room for some nice aquascaping and great viewing perspective.
For height I am going 20" high, this should make aquarium maintenance fairly straightforward - I will be able to reach the sand without any difficulty.
I've made a number of cutouts and experimented with different sizing and locations. At the end I've picked the location that worked best and now my future aquarium measures at 48" x 24" x 20".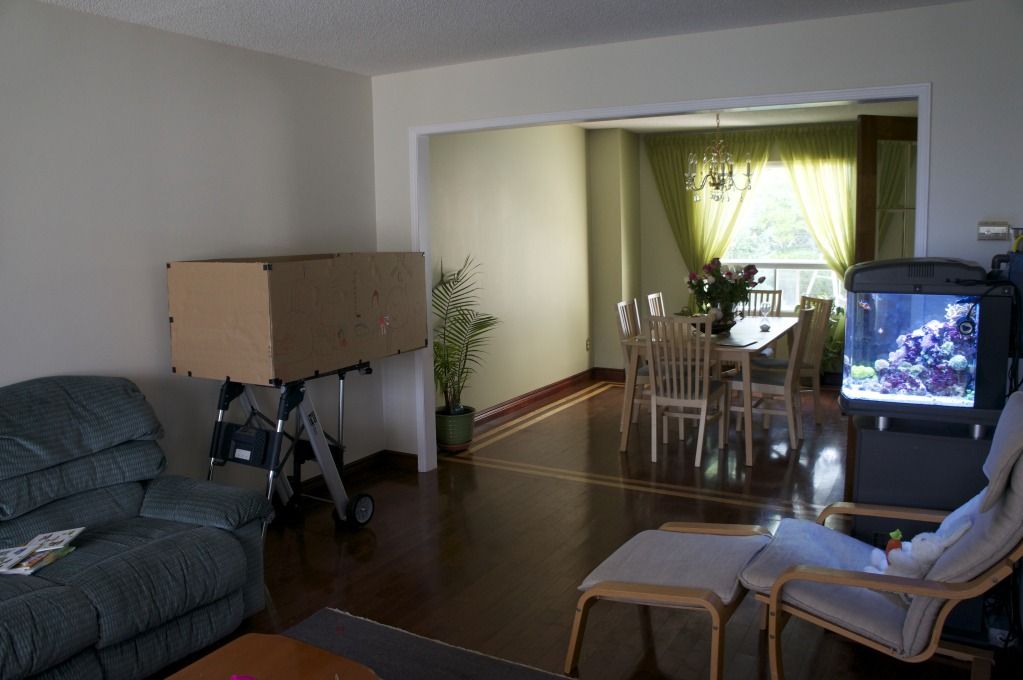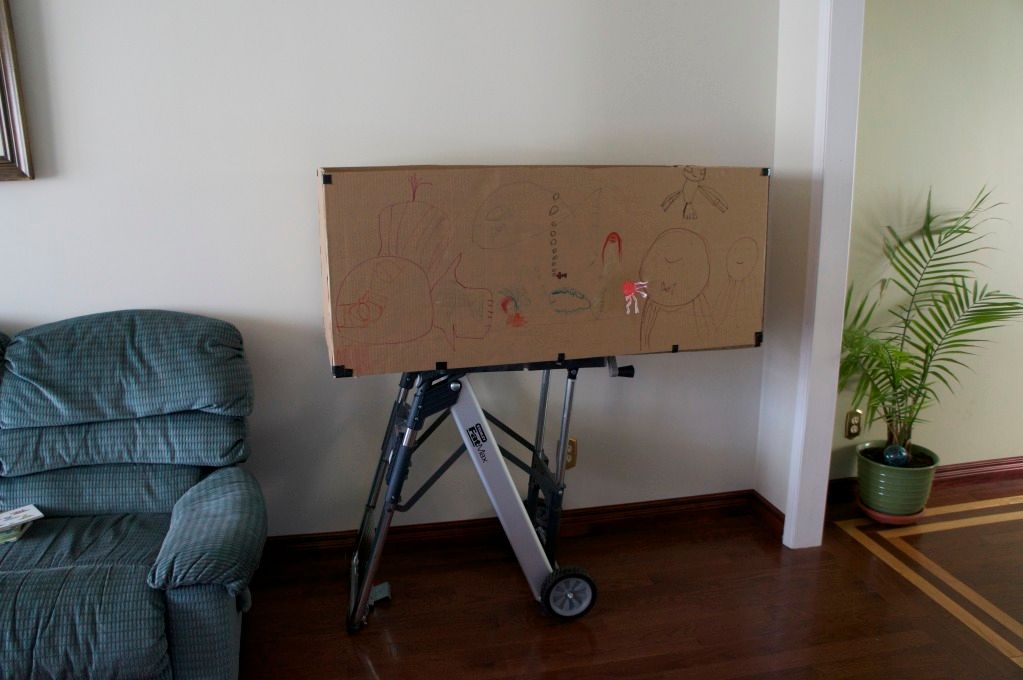 I will be going with a rimless look and low-iron glass (starfire) on front and sides. Bottom will be tempered glass with 3 holes, 2 drains 1-1/2" and 1 return of 1".
Overflow will be internal, 3 sided rectangular black acrylic centered on the back panel.
The cabinet stand will measure 48-1/4" x 22 1/4" x 36" high, custom built, espresso colour, extra door on the left end and a removable post in front. I plan to add an additional door on the right in case I ever decide to move the tank.
The sand depth will be between 1" and 2", the bottom part of the tank will be hidden behind the stand bevel.
The sump will be 36" x 17" x 16".
Winterfell
I decided to document this process from the start, hoping that I will have a point of reference that I can always come back to in order to revisit this journey. I hope that this journal will help others to learn from my experience and mistakes and that I will be able to contribute to the wonderful hobby of marine reef keeping.
2011 and 2012 were the years when I was introduced to the works of George R. R. Martin, namely "The Game of Thrones", part of the fantasy series "A Song of Ice and Fire". This elaborate saga featured a castle called Winterfell. The name had caught my attention and I decided to give my new build the same name. I hope to use a similar colour scheme of cold blues and the rocks remind me of castle walls.